Art à porter. Fondazione Prada a Ca' Corner della Regina
testi
Author: Paolo Lucchetta
Published in VeneziaNews – August 2017, column ":art"
Language: Italian/English
Photos by Attilio Maranzano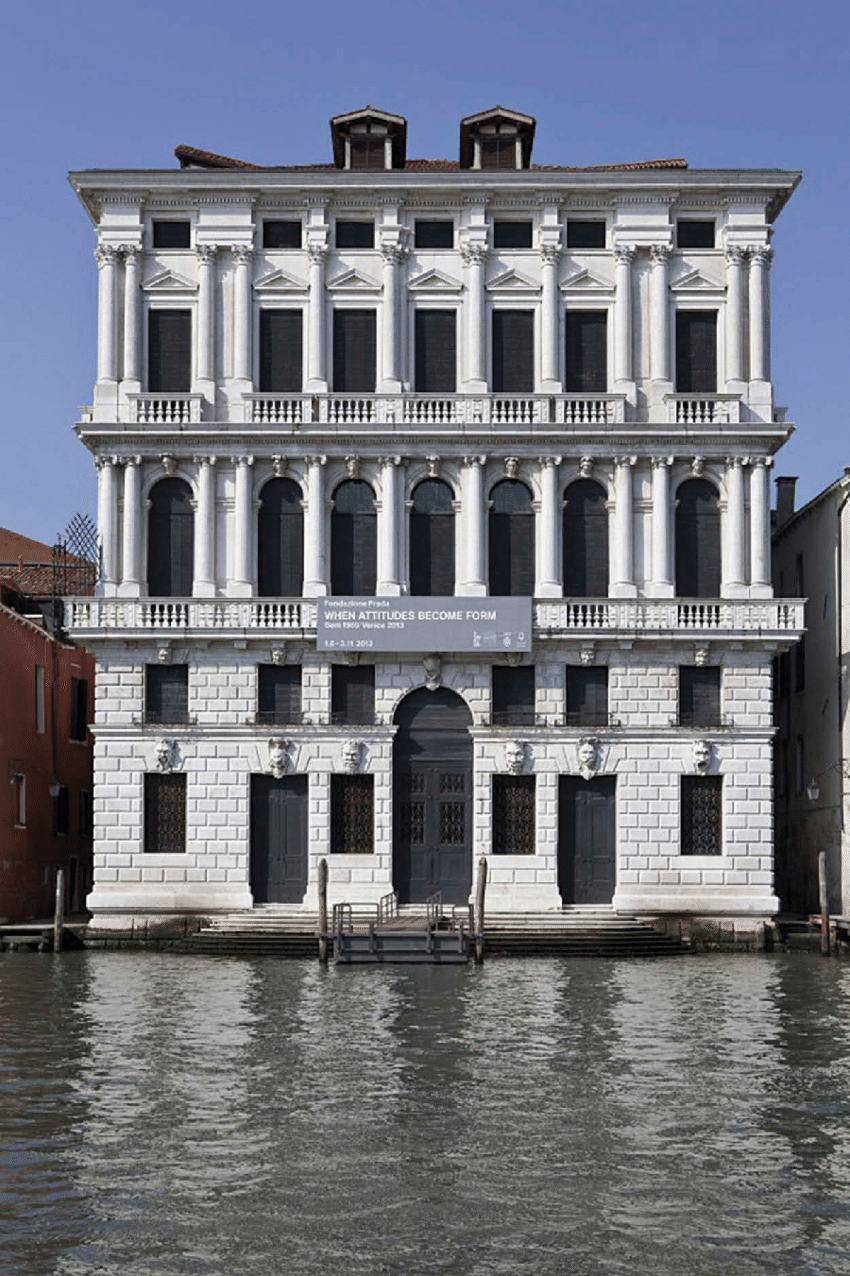 It is essential to recognize the fact that, once again, the collaboration between Venetian institutions and Foundations (in this case, the Musei Civici Veneziani and the Fondazione Prada) have made possible the restoration of Ca' Corner della Regina.
In the catalogue which accompanies the exposition, Germano Celant explains how the occasion of the restoration has allowed the proposal of reflection on the "autobiography" of the Foundation.
This exposition has been generated by its own history, by the selection of its most important episodes, by its essence and desire to constitute a place for interdisciplinary exchange, open to all interpretations without specific horizons. The collections which Miuccia Prada and Patrizio Bertelli have been acquiring ever since 1983 have no pretensions of completeness; rather, they emphasize rigour and passion.
In the halls of Ca' Corner, they have discovered a new dialogue with a historical context understood, not as a monumental space, but as a living location which rejects all auras that do not reflect the usable, real and vital dimension. The preferred element is that of co-production, an attitude which has allowed them to undertake exceptional, unique projects. Among these numerous projects is the new centre of the Fondazione Prada in Milan. Designed by Rem Koolhaas/OMA and displayed with models and materials at Ca' Corner, this demonstrates the ambition to interact, not only with the present but also with the past and future as an opportunity for narration. Narrations between art, brand, the city, buildings which seem well described in the dialogue between Germano Celant and Rem Koolhaas in their search for the motivations behind establishing foundations and museums in existing historical or industrial buildings.
An economic motivation, or an attempt to preserve the image of culture as alternative, in order to recover history and project it into the future? Or, as in the '70s, maybe the aim is to seek large spaces for artistic research and Land Art? Rem has declared: "When the alternative constitutes the norm, the result is vast confusion. Perhaps, with Fondazione Prada, these new buildings can become the new alternative". New experimentation which involves the city: on this basis, it will be possible to evaluate and appreciate the Foundation's contribution to the new cultural system, with the assurance that new pages of autobiography will be written: pages made of places and people in our wonderful nation, Italy.
Until October 2 at Fondazione Prada, Ca' Corner della Regina.
Info here.
Anish Kapoor – Void Field, 1989
Landstone, pigment, 20 elements, variable dimensions.
Courtesy Fondazione Prada.
—
Lucio Fontana – Concetto spaziale. La fine di Dio, 1963
4 elements.
Courtesy Fondazione Prada.